School News
Reezdvo - January 12, 2017
Posted on

December 23rd, 2016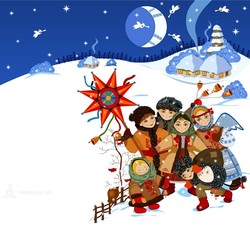 The Ukrainian Bilingual Program and Ukrainian Bilingual Parent's Association of Vegreville, along with the teachers and students invite ALL students, parents, siblings and grandparents to join us in a joyous Christmas celebration called "Reezdvo."
Reezdvo is a celebration where we share our rich Ukrainian traditions. The children have been practicing and will be putting on an amazing performance as usual. A traditional perogy meal will also be served.
The celebration will be held on THURSDAY, JANUARY 12, 2017. The concert will begin at 5:00 pm, the meal to follow. This years event will be held at the VEGREVILLE SOCIAL CENTRE.
The meal will consist of:
Perogies, Sausage, 2 Salads, Kolach (bread), Pickles, Dessert, Coffee and Juice.
Ticket forms have already been sent home with students. Tickets cost $20.00 each (13 yrs and up), $10.00 (children 12 and under). Performing students and children 5 and under, eat free. The ticket deadline is JANUARY 4th, 2017.
If you are interested, please contact Raeanne at 780-603-0029