School News
Read-In Week October 3-7, 2016
Posted on

September 30th, 2016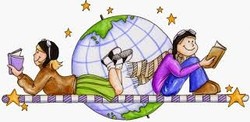 Read-in week is upon us once again, October 3-7th, 2016. We are extending this week to the following week as well. This year's theme is "One World, Many Voices". With this theme the committee has decided to expand our horizon and capture the love or reading and education without the world.
Every grade will receive a flag of a certain country to color and post up on the bulletin board by the library. These will serve as a reading record of their class goals. If their goal is reached the students will be rewarded with a sticker for their flag. If they receive at least 6 stickers they will be invited to reading celebrations in June!!!
To kick off the reading activities we will invite community people from other cultures/countries to share their stories and the importance of education in their country. If you know of anyone (parent from your class) who would be interested in participating with this activity, please let the committee know. As next week is a short week we will also encourage people to read to classes the week after.
Marty Chan will be here on October 12th. He is an awesome children's author.
As parents and guardians, it is extremely important to share our love of reading and learning with our children. Snuggle up with a wonderful book and enjoy your time together. Discovery the world through reading and learning about other countries and cultures!!!!!!!